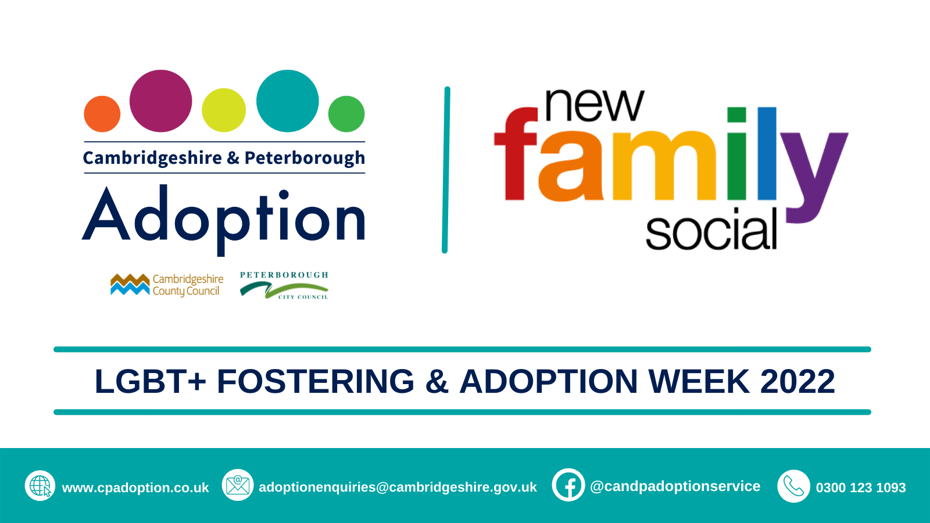 07.03.22
Cambridgeshire & Peterborough Adoption Service dispel myths in support of LGBTQ+ Fostering and Adoption Week
Cambridgeshire & Peterborough Adoption Service are supporting the 'Be the Change' LGBTQ+ campaign by dispelling myths that could be preventing people from considering Fostering or Adoption.
This year, LGBTQ+ Fostering and Adoption Week takes place on the 7-11 March and we are supporting New Family Social (NFS), a local organisation that works to encourage people from the LGBTQIA+ (Lesbian, Gay, Bisexual and Transgender, Queer/Questioning, Intersex and Asexual) community to consider becoming Foster Carers or Adoptive parents.
Take a look at some of the Myths surrounding Adoption here.
The campaign is being run on Facebook via the Cambridgeshire & Peterborough Adoption Service page - https://www.facebook.com/candpadoptionservice.
If you are interested in adoption and want to find out more, contact us by:
Emailing adoptionenquiries@cambridgeshire.gov.uk, calling 0300 123 1093 or visiting: www.cpadoption.co.uk.
You can follow Cambridgeshire & Peterborough Adoption on Facebook and Instagram @candpadoptionservice.