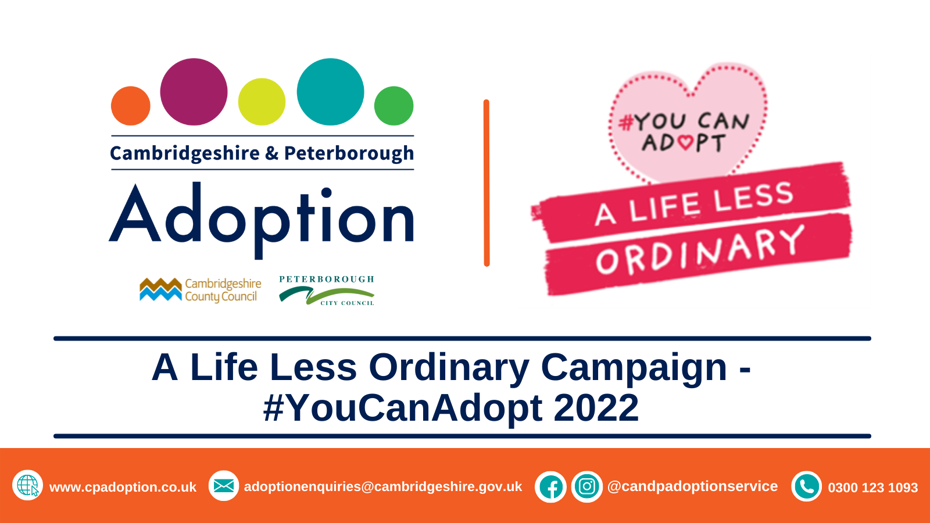 29.06.22
'THESE CHILDREN MAY BE HARDER TO PLACE, BUT THEY ARE NOT HARDER TO LOVE':
NEW CAMPAIGN SEEKS ADOPTERS IN CAMBRIDGESHIRE AND PETERBOROUGH FOR CHILDREN WHO WAIT THE LONGEST
Cambridgeshire & Peterborough Adoption Service are supporting this year's #YouCanAdopt new campaign 'A Life Less Ordinary' which has gathered information about the children waiting for adoption and the views of those who would consider adopting, to help find parents for children waiting longest to be adopted across the counties.
The campaign is aimed to breaking down the barriers surrounding common misconceptions over the belief that the adoption process is 'complex' and the different 'types' of adopters who are needed.
With latest data from You Can Adopt revealing there are enough prospective adopters for most children waiting to be adopted, the campaign is focused on finding the right adopters for specific groups of children such as children with additional and/or complex needs, and brother and sister groups.
In Cambridgeshire and Peterborough, the Regional Adoption Agency are supporting 17 children waiting for adoptive parents where 8 or (47%) are children that have brothers and sisters and 7 (41%) have additional and/or complex needs with 1 child waiting for more than 18 months.
Nationally, compared to children without these characteristics:
Children with additional and/or complex needs wait 11 months longer
Children in brother and sister groups wait 11 months longer
To reduce waiting times for these groups, the campaign showcases the many life-changing benefits of adopting these children or young people, explores the traits parents need to be resilient adopters, and highlights the support available to adopters and adopted children – highlighting that while some children may be 'harder to place', they are not 'harder to love'.
The campaign also offers additional support and information around adopting children from an ethnic minority background, as the reasons why children from this group typically wait longer are complex and different to those from other groups.
You can also watch Cambridgeshire & Peterborough Adoption Film on our YouTube channel.
View here: Cambridgeshire & Peterborough Adoption Film
We are supporting the campaign via our Facebook page: Cambridgeshire & Peterborough Adoption Service - https://www.facebook.com/candpadoptionservice.
As part of the 'A Life Less Ordinary' campaign, #YouCanAdopt released a film featuring children from these groups forming an 'expert' interview panel, asking real adoptive parents questions about what it takes to give these children a permanent home.
View here: Life Less Ordinary- You Can Adopt Campaign 2022
If you are interested in adoption and want to find out more, contact us by:
Emailing adoptionenquiries@cambridgeshire.gov.uk, calling 0300 123 1093 or visiting: www.cpadoption.co.uk.
You can follow Cambridgeshire & Peterborough Adoption on Facebook and Instagram @candpadoptionservice.